With "Kanagawa Multicultural Mailing List"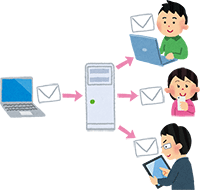 In perform information exchange about the making of information about support to "children with non-Japanese ethnicity" and multilingual information, community of multicultural society on the Internet participants is place to share information about multicultural society.

Structure of mailing list
One E-mail which participant registered beforehand sent is sent to all other registrants.
※We run system using paid "mailing list server service" that IIJ (Internet Initiative Japan Inc.) provides. There is no expense burden on participant of mailing list (except communication fee).

Use example
We receive / to send news of event about multicultural society to participant
We ask information such as the teaching materials, multilingual documents
We send trouble in activity and get advice from participant…
Use of nadono is possible.

One to intend for
It is the NGO staff in Kanagawa, International Association, the lounge staff, Japanese language course volunteer, Japanese instruction cooperator, teacher, staff of group, student, general one.
Kanagawa outside can participate for intelligence, joint ownership, too.

Application method
As "multicultural email," we contact for three next information, and person in hope of participation, please send title by email.

(1) Participation e-mail address
(2) The name (furigana)
(3) Position

Instructions
We transfer information exchanged in mailing list and may be reprinted. Please be careful about content to post such as personal information enough. Email sent to address of mailing list is delivered to all the mailing list participants. Please be careful not to deliver email to individual to mailing list by mistake.

Withdrawal procedure
When withdrawal from mailing list is hoped for, I would like notification by email to foundation.
Email: tabunka ★kifjp.org
※When we send email ★Please change this into @ mark.

Application, inquiry
(public interest incorporated foundation) Kanagawa International Foundation multicultural society mailing list charge
〒221-0835
2-24-2, Tsuruyacho, Kanagawa-ku, Yokohama-shi
The thirteenth floor of the citizens of Kanagawa center
Multilingual support center Kanagawa
TEL: 045-620-0011
FAX: 045-620-0025
Email: tabunka ★kifjp.org
※Email ★You change this to @ mark, and please send.