Studying abroad support seminar
Summary
Though we are interested in studying abroad that wants to study abroad, we do not often know and are uneasy…Targeting at high school student, university student generations of Kanagawa called this, it is seminar giving information about studying abroad. Through lectures of studying abroad experiences by studying abroad experienced person or local living information played an active part after introduction, studying abroad in society, we know studying abroad from wide point of view and help the making of with opportunity flapping in the world from Kanagawa. We distribute documents such as studying abroad guidebooks from each country Embassy free.


Holding information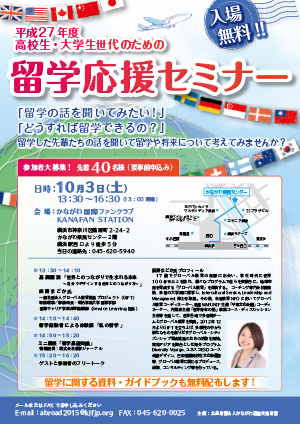 ●Target person
High school student, university student, technical school straight generation where interest is interested in for studying abroad

●Holding place
Kanagawa international fan club KANAFAN STATION
2-24-2, Tsuruyacho, Kanagawa-ku, Yokohama-shi
The second floor of the citizens of Kanagawa center
From the Yokohama Station west exit, west exit where came to a 5-minute walk 
Access is this

●Date
Saturday, October 3, 2015
From 13:30 to 16:30 (the 13:00 opening)

●Entrance fee
Free (advance reservations are necessary)

●Application method
After filling out full name (kanji and Romaji), sex, school name, school year, phone number, e-mail address, please send email here.


●Contact
Kanagawa International Foundation studying abroad support seminar charge
TE: 045-620-0011
FAX: 045-620-0025
E-mail: ryugakusei ★kifjp.org (please change ★ into @ mark)

●To everybody who is applied for
・In one that had you participate, I would like cooperation for questionnaire.
・On the day we may put photograph which we photographed on Facebook and homepage of foundation as conduct report.
・Please inform of cancellation after application decision immediately.
・Conduct report of 2013 and 26 is this
http://www.kanafan.jp/activities_report#ryugaku